In today's world, many families find themselves unexpectedly considering home education.
School violence and bullying are on the rise. The political nature of public education has changed. And, now millions of children are at home in the face of the Coronavirus pandemic.
No matter what your reasons are for starting, we're here to help!
Families may find themselves overwhelmed with where to begin. It is our goal is to encourage you along the way and provide you with valuable helps and resources that will help you make the best decision for your family.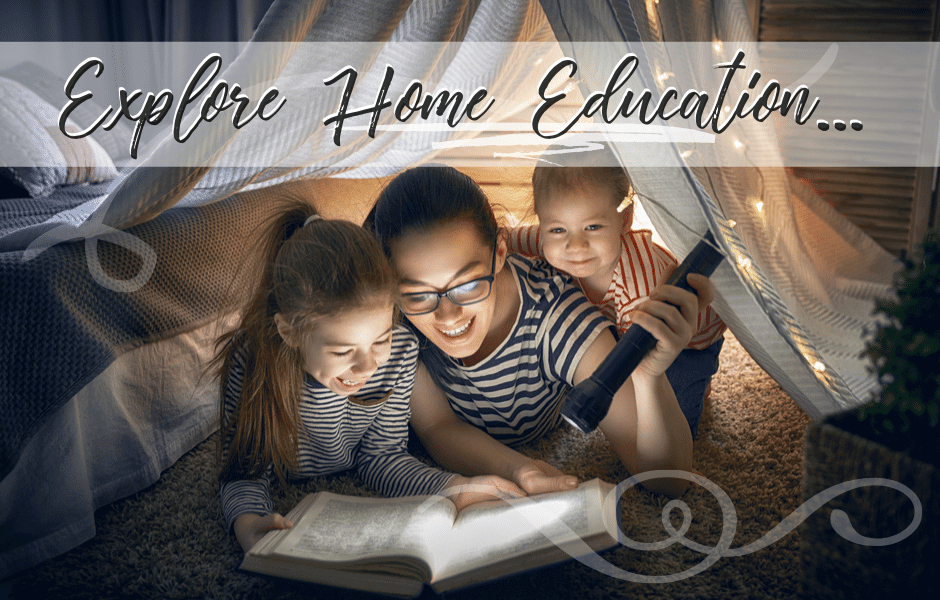 My kids are stuck at home because of COVID-19. Am I homeschooling?
Not necessarily.
Across the country, schools are closed due to the coronavirus pandemic. Your children may be at home with you doing school work provided by the school, but it's TEMPORARY. If you are planning to send your child back to the same school when the doors open again, you are not really homeschooling according to Michigan law.
But, what if?
What if you like the idea of homeschooling and you want to explore your options?
What if you don't want to send them back?
What if you're interested in home education on a more permanent basis?
MICHN is here to help!
1) KNOW THE STATE LAW
We are blessed in Michigan to have laws that allow us to freely home educate our children.
Michigan's Compulsory School Attendance Law
This law states that "every parent, guardian, or other person in this state having control and charge of a child from the age of 6 to the child's 16th birthday, shall send that child to the public schools during the entire school year" (MCL 380.1561, Section 1561[1]).
Thankfully, Michigan's Compulsory School Attendance law also contains exemptions so that all children between the ages of 6 and 16 do NOT have to attend a public school.
MCL 380.1561, Section 1561(3) states "A child is not required to attend a public school in any of the following cases:
(a) The child is attending regularly and is being taught in a state approved non-public school, which teaches subjects comparable to those taught in the public schools to children of corresponding age and grade, as determined by the course of study for the public schools of the district within which the non-public school is located.
…(b), (c) and (d) are exemptions for students living extremely far from transportation to public school, and for those in attendance in confirmation or religious classes…
(e) The child has graduated from high school or has fulfilled all requirements for high school graduation.
(f) The child is being educated at the child's home by his or her parent or legal guardian in an organized educational program in the subject areas of Reading, Spelling, Mathematics, Science, History, Civics, Literature, Writing and English Grammar."
MCL 380.1561, Section 1561(4) goes on to state "Exemption from the requirement to attend the public school may exist under either subsection (3)(a) or (3)(f), or both, for a child being educated at the child's home by his or her parent or legal guardian."
Read more about our Michigan homeschooling rights on our FAQ page:   https://michn.org/faq/michigan-law/
NOTE: Michigan homeschool families are not required to register with the state and do not have to do any testing or reporting.
2) IS YOUR CHILD ENROLLED IN SCHOOL?
While homeschool families are not required to report to the state, families with children already enrolled in school do need to withdraw them. It is expected that the school will receive written notice from a parent when a student is transferred from a public, private, or charter school to homeschool.
[Your name]
[Your address]
         [Date]
Dear [name of school principal],
Please be advised that I will be withdrawing [name of child] from your school as of [date of withdrawal], as we will be pursing other educational options. If you have any questions, please contact me.
Thank you.
Sincerely,
[Your signature]
[Contact Information]
3) GET CONNECTED
MICHN (Michigan Christian Homeschool Network) has been helping families new to homeschooling for years! Our team is here to help answer your questions and help connect you with local resources. Find out how to connect with a MICHN Regional Representative or a support group near you here:
Your MiCHN membership, MiCHN event attendance, and donations support the work of a non-profit organization run by a volunteer board of directors and team. MiCHN  has worked to Encourage, Educate, and Equip Michigan homeschool families for years.
What About Virtual School Options?
NOTE: K12 and several other virtual schools are viable, school-at-home, public school options for families in Michigan. But by definition, they are public school options. Therefore they operate and are subject to different laws and guidelines than homeschools, which are nonpublic. Simply doing school online from home through a virtual public school means that your student is enrolled in a virtual school; they are not homeschooled.